We are excited to say we have our first, delicious sponsor, Chocoley. We've partnered with this family-owned company to bring you some insanely delectable chocolate desserts with their amazing products.
A few weeks ago, while sifting through John's eHarmony and Christian Mingle emails he insists on forwarding to the email address we share for QitK, there was one that contained a proposal that involved FREE chocolate. This is the thing of dreams.
Just a few emails later, we found a big box of great chocolate products on our doorstep. We resisted the urge to 'sample' all 6 pounds of chocolate sent our way, and found some great recipes on their website that we tested out.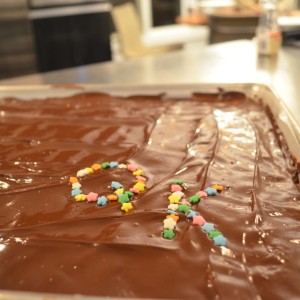 This particular recipe spoke to us deeply. And by 'spoke to us' we mean it seemed the recipe with the least work to achieve the most delicious end result. Like london's gooey butter cake, so many good things seem to start with a box of cake mix.
Recipe for birthday cake bark
Comments
comments